Had the random idea of driving through the whole of Peninsular Malaysia, visiting all 11 states.  
Booked all the hotels 2 weeks before start date to lock it in. Went back to focusing on work. When time came, I packed and jumped into the car.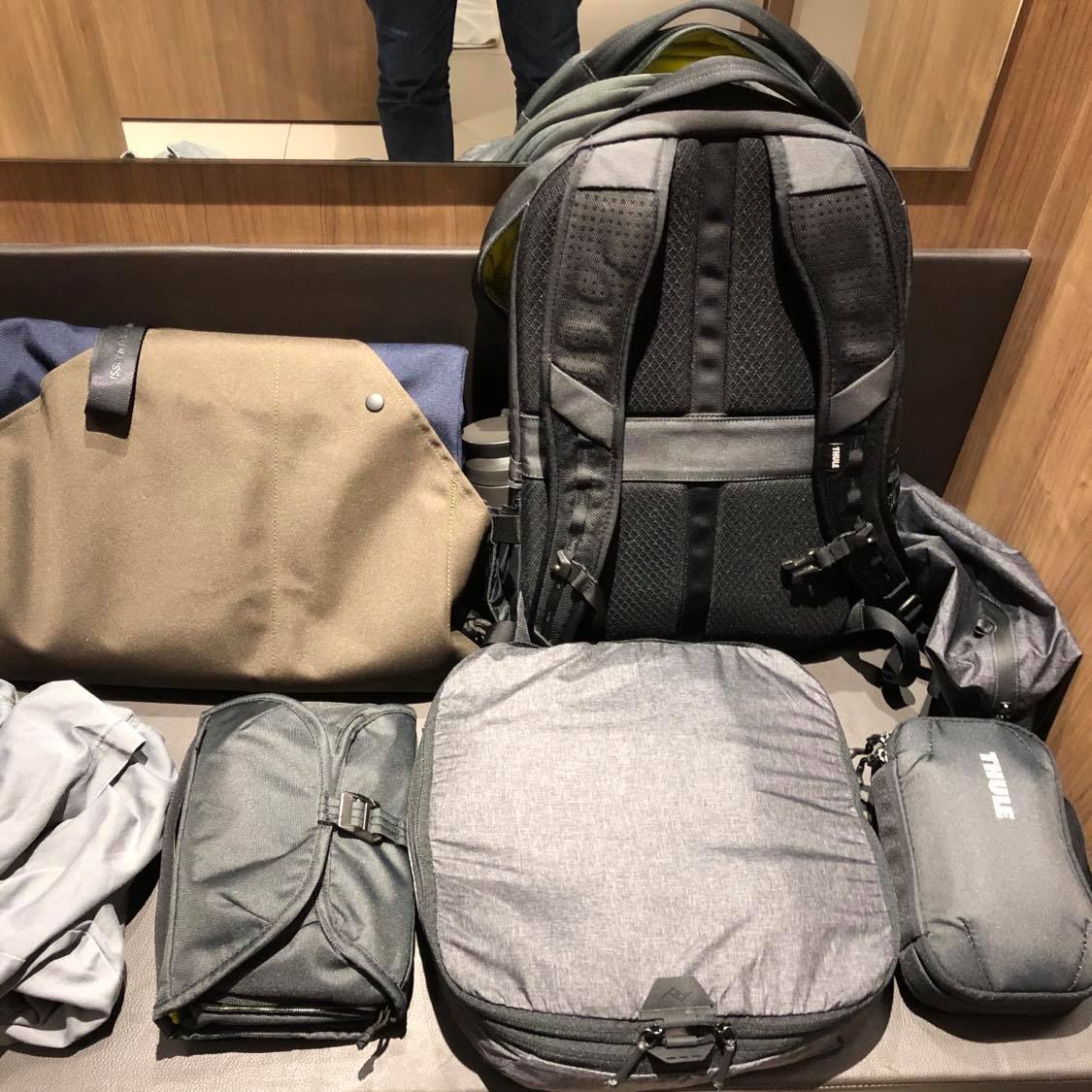 I only have 1 day in each state/city. It has to be "touch & go" style in order to get the most out of it. I set a few goals before the start of my journey. In each city, I will deeply immerse myself to get a quick sense of its culture, go to the city's best restaurant for dinner, have breakfast at a legendary local spot & visit a few of the city's popular destinations. And in order to have more time in each state, I will drive no more than 2-3 hours a day.
Here's the routes at a glance: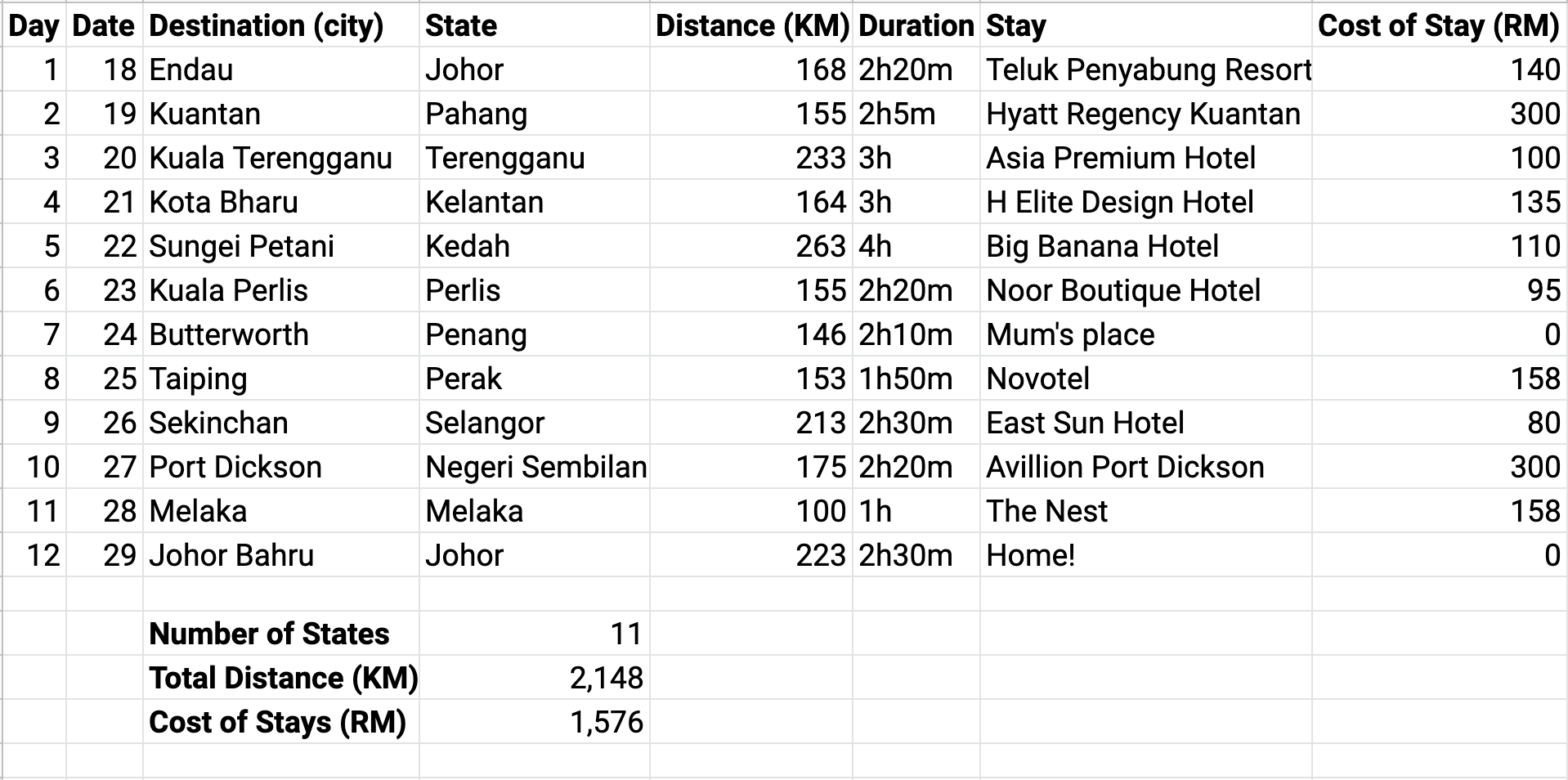 Map of the whole journey: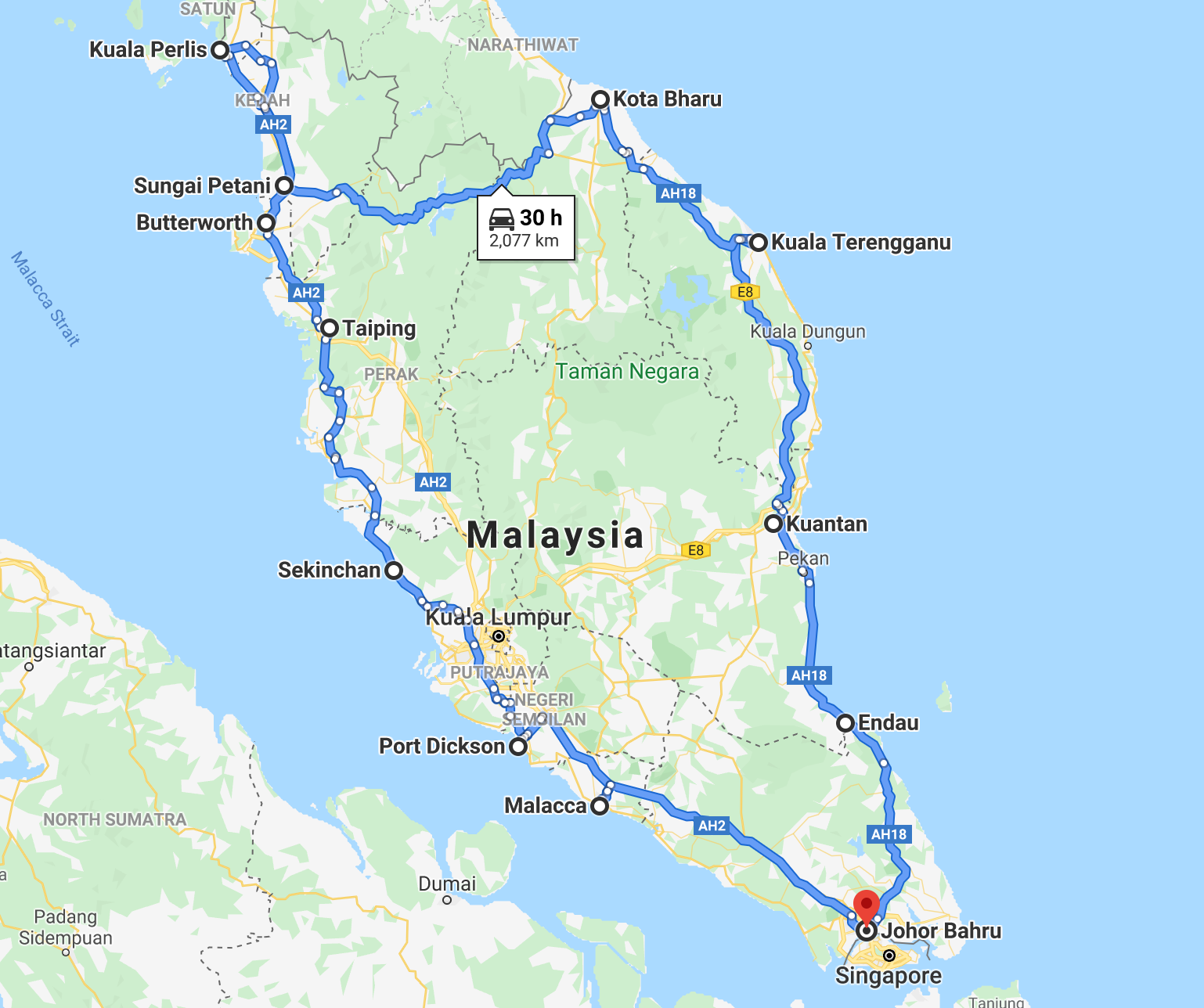 Stories from the road; Let's go!
Day 1: Endau, Johor (168km; 2h20m)
Left Johor Bahru around noon & took a 2-hours drive to Endau. A small Johor seaside town near the border of Pahang. When I asked the resort receptionist for food recommendations, she replied "the jetty", with a sparkle in her eyes. Turns out, located just 2 minutes away, is a nicely developed jetty area with a food court & recreation facilities. Was quite surprised to find that in a small town.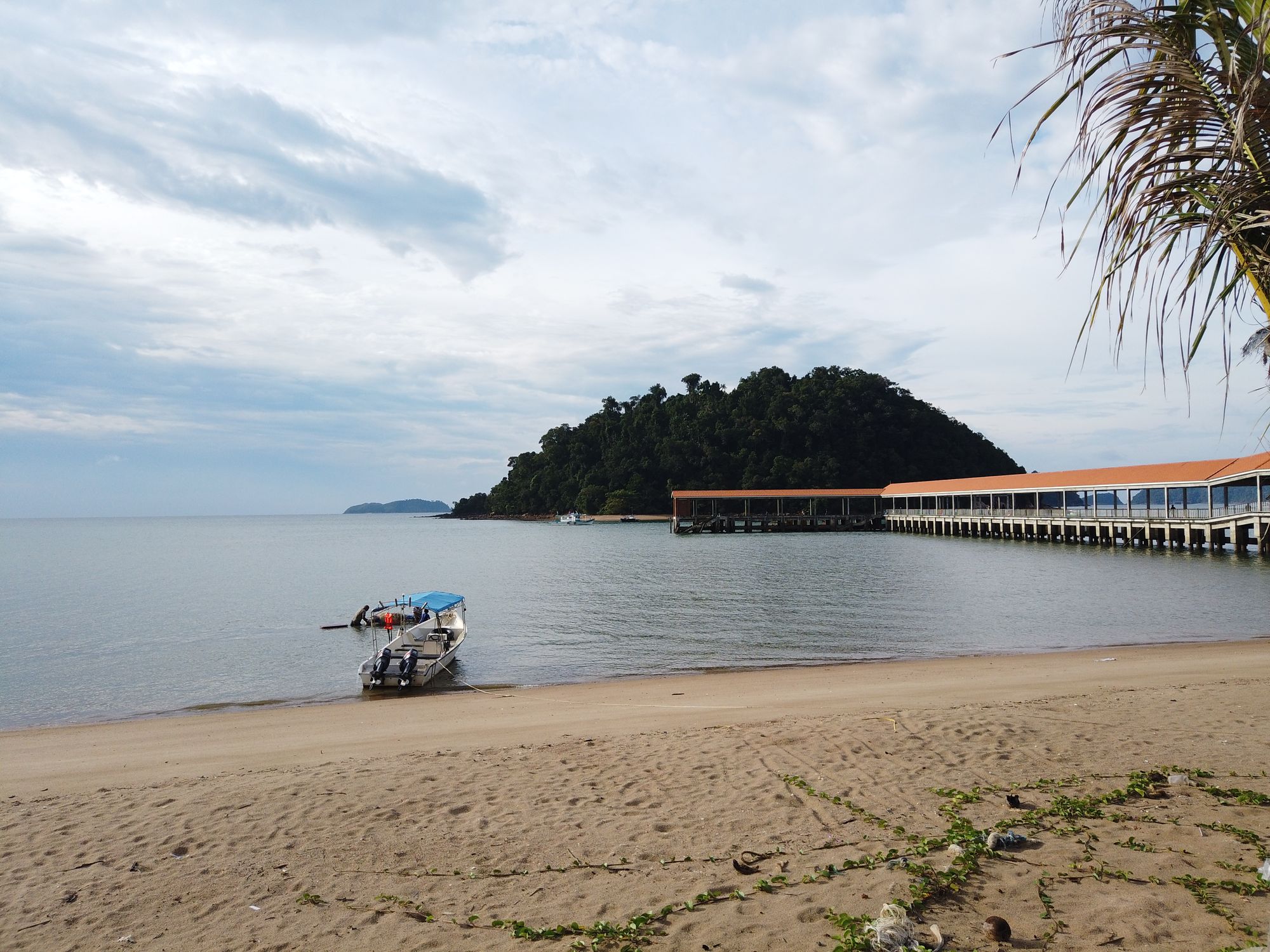 The food court was quiet, but there was a long queue at a particular stall famous for ikan celup (battered fried fish) & other fried local snacks. I bought some goreng pisang (it was really good) & sat by the jetty savoring the snacks while reading a book.  
The first day was spent in my home state Johor, experiencing a town that I haven't been to. Spent time chilling. But mostly my mind was still on work as we were preparing to launch something new the next day.
Day 2: Kuantan, Pahang (155km; 2h5m)
Woke up early & caught the sunrise at the jetty. Had breakfast, made some last minute work prep and set off for Kuantan. Made a stop at Pekan for lunch & to facilitate the product launch. Was fun.  
Pretty much stayed in at Hyatt Regency to rewind & decompress. Chilled at the bar & beach, had a nice grilled seafood dinner. The hotel was built in 1979, recently refurbished and still retains its charm.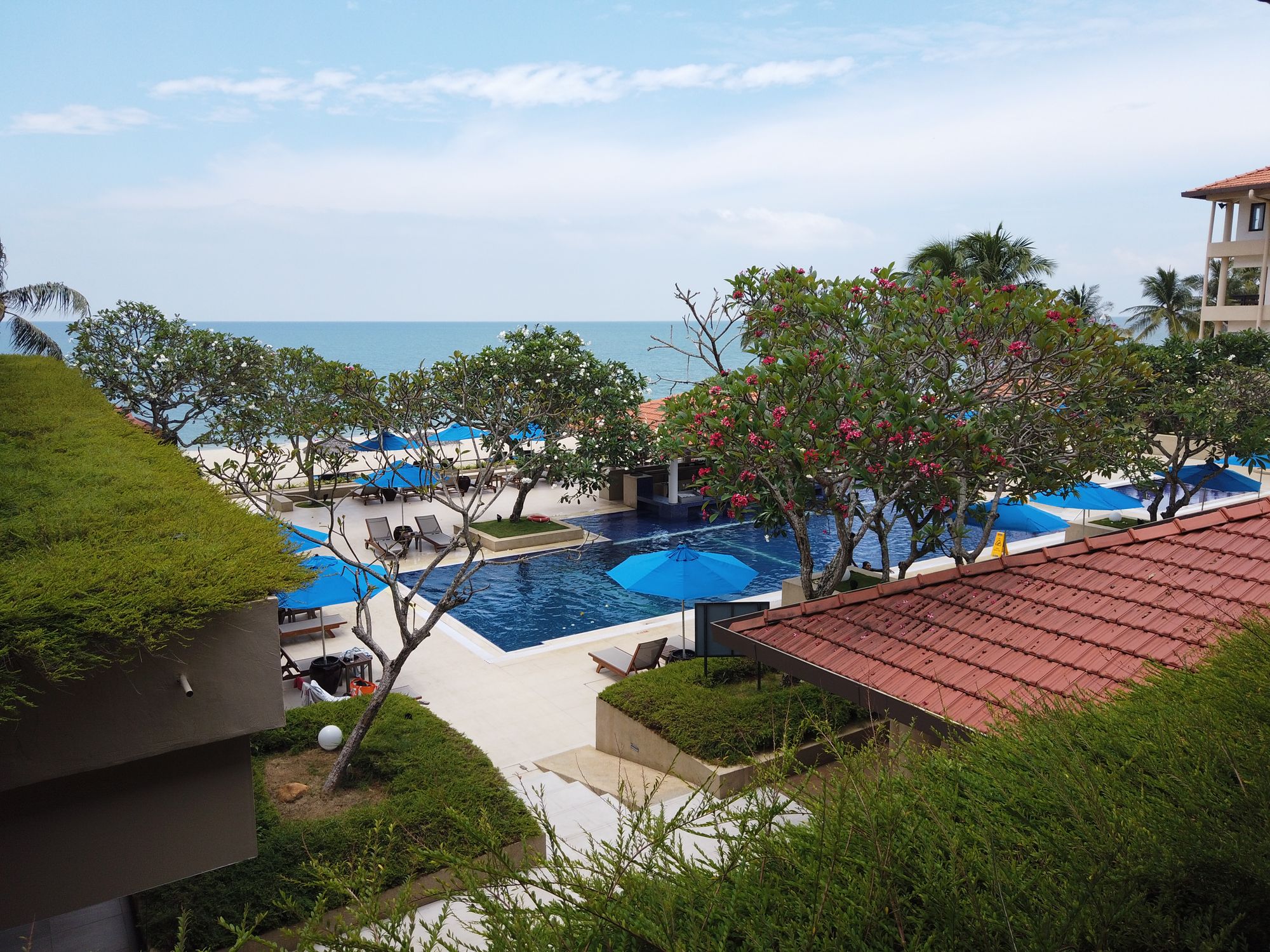 Had the legendary curry horfun for breakfast at Hoi Yin the next day, followed by coffee & a mindblowing Thai Milk Tea "sourdough-nut" at Wild Flour Bakehouse, before setting off for Kuala Terengganu.  
Day 3: Kuala Terengganu, Terengganu (233km; 3h)
Walked around KTCC, the first & only mall in Kuala Terengganu. Had dinner at Yes Corner, the only specialty Japanese restaurant in town. Basic dishes, but you can feel the effort & passion of the friendly chef. It was empty when I was went in, but gets filled up quickly with happy customers.    
Caught a beautiful sunrise at Pantai Batu Burku the next morning then had nasi kebaru for breakfast at the legendary Fauzi. Damn, it was so good. I kept thinking how did they pack so much goodness into something that costs less than RM10.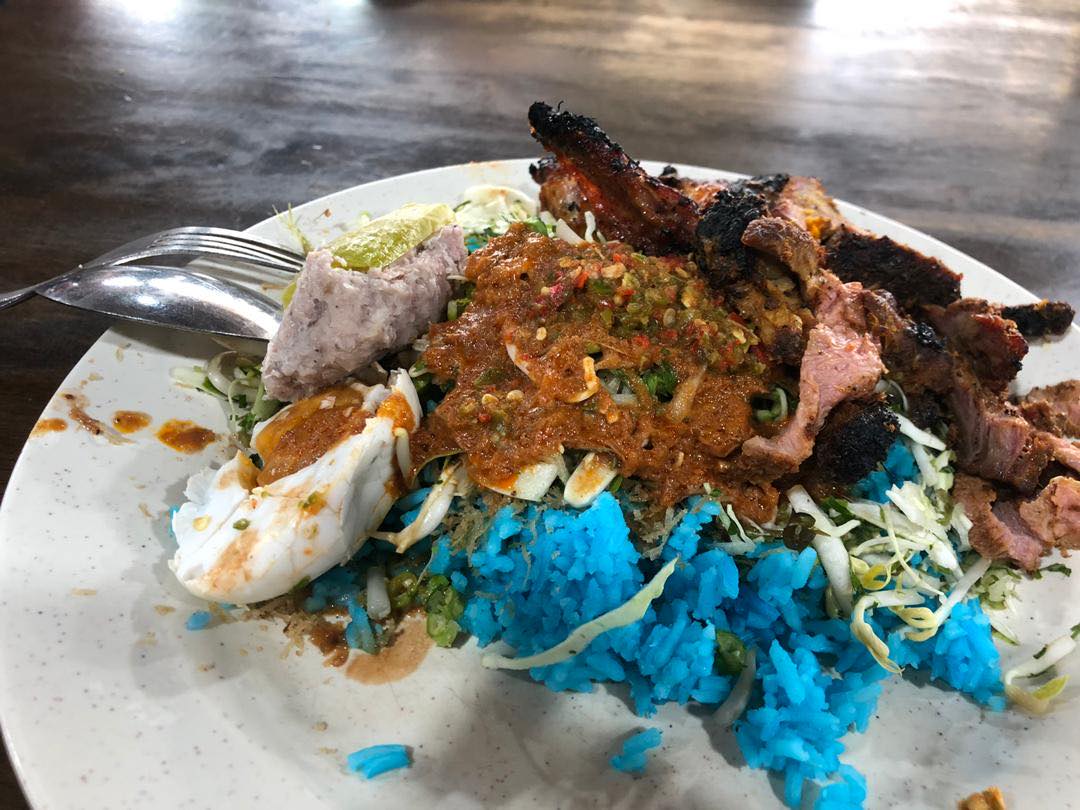 Checked out Terengganu Draw Bridge & the city's Chinatown after breakfast, then set off for Kelantan.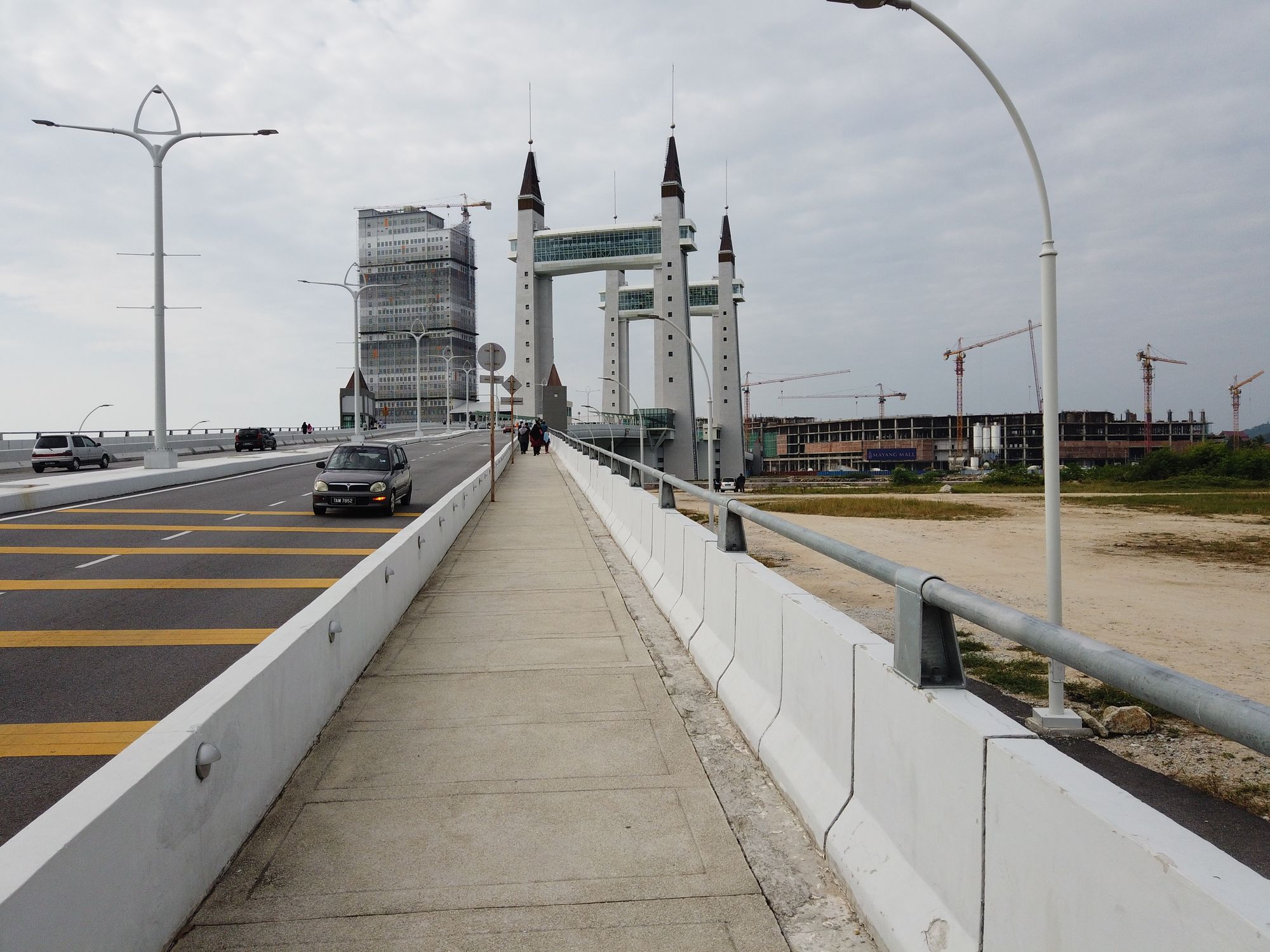 On the road while exiting Terengganu, I spotted numerous roadside stalls selling grapes. Stopped at one & bought my favorite "ruby" type grapes. Was sweet, fresh & crunchy.
Day 4: Kota Bharu, Kelantan (164km; 3h)
Kelantan was a big surprise. It's very underdeveloped. There are very few buildings. Mostly paddy fields. But somehow you can tell that there are a lot of rich people & the masses have this simple & happy life.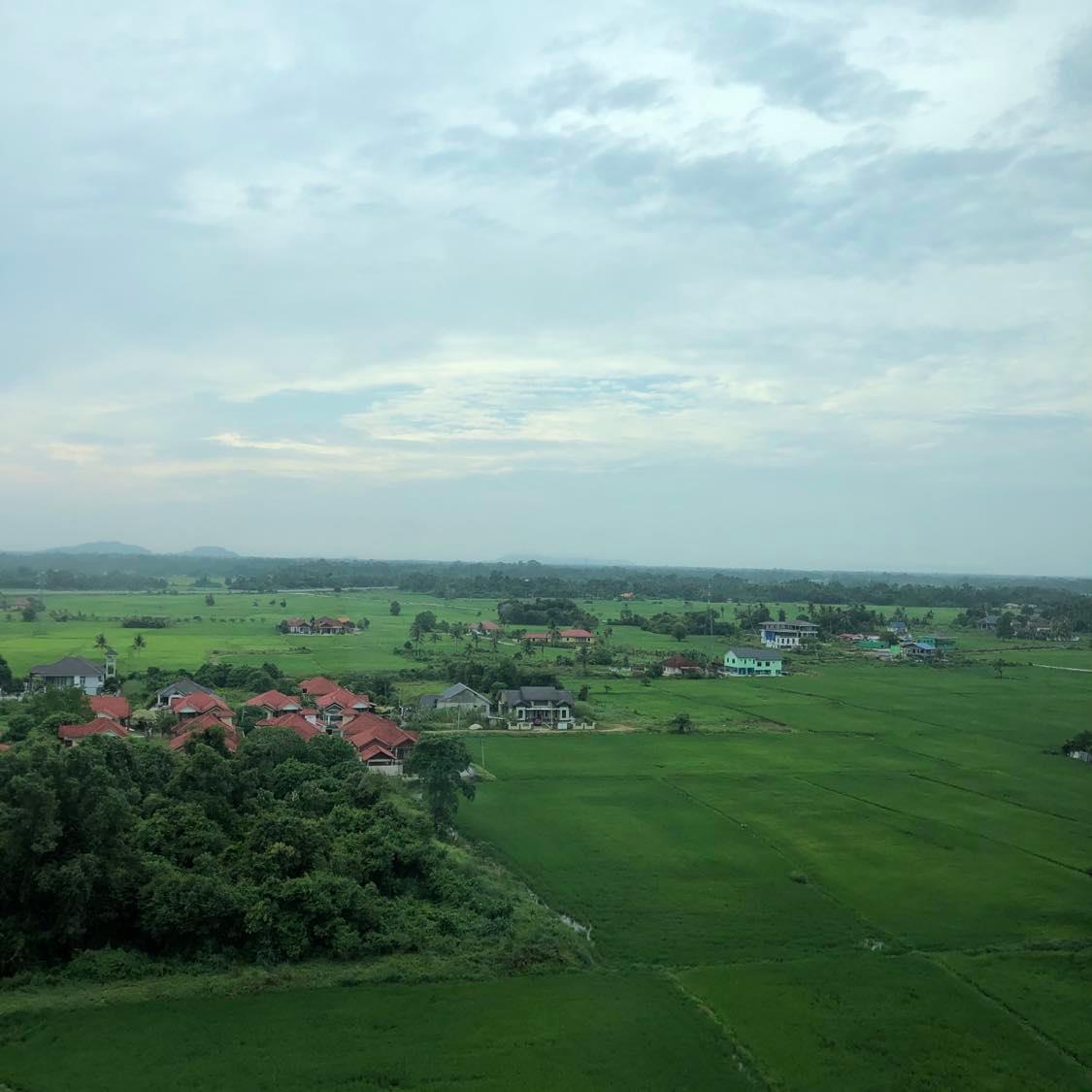 While searching for a dinner place, I caught a glance of a signboard with the words "Dry-Aged Steaks". I was like, "Really? In Kelantan"? I quickly made a u-turn & stopped by the shop (KBB Steak). Turns out, the steaks they serve are bloody good. Beats a lot of the premium restaurants in Kuala Lumpur & Johor Bahru.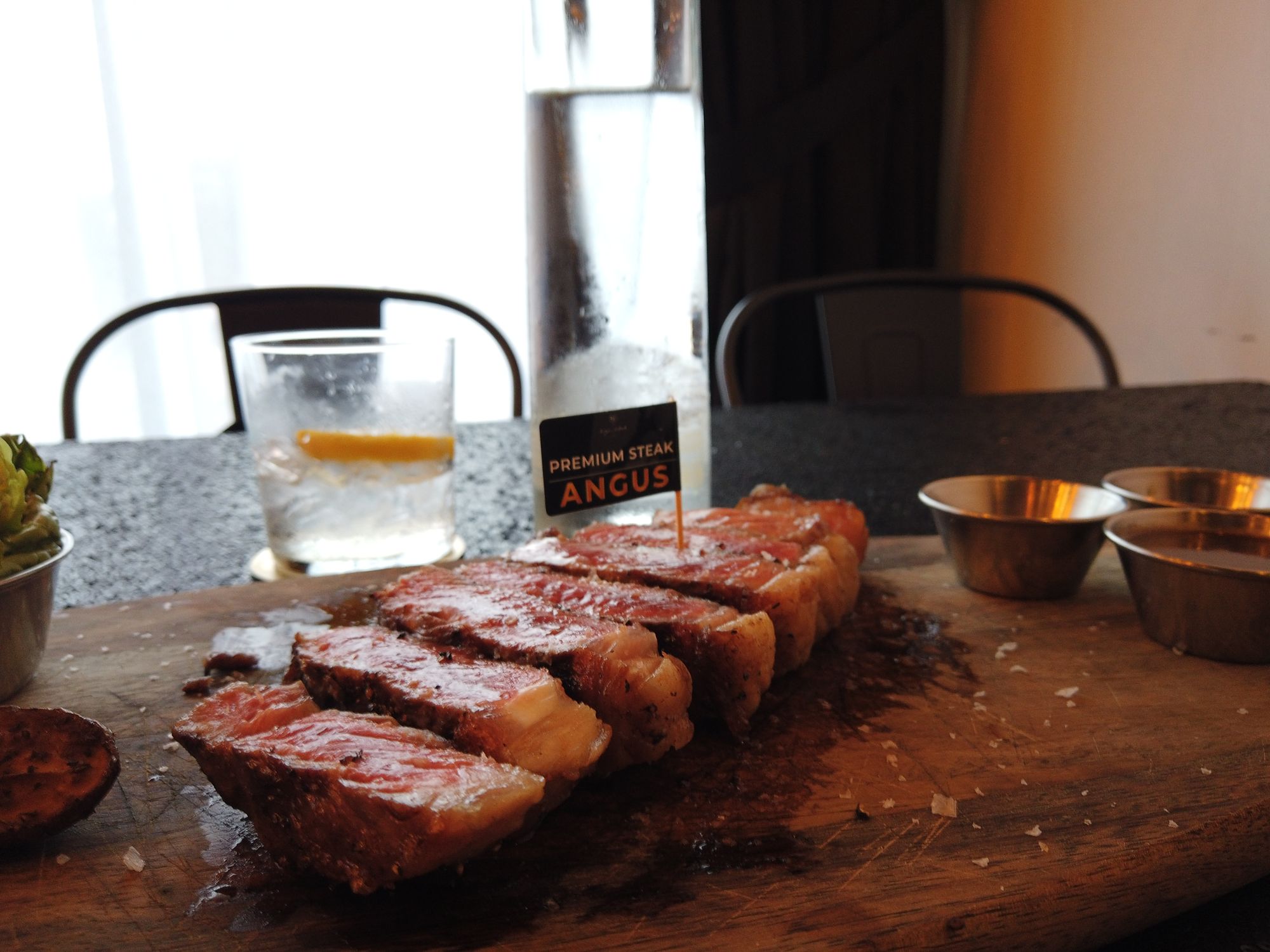 Had roti gedik (toasted bread with kaya & soft-boiled egg) at Oren Cafe the next morning before setting off for Kedah.    
Day 5: Sungei Petani, Kedah (263km; 5h)
This is the longest drive in the whole journey. Had to go through a highway in the mountains to cut from East Coast to the West Coast. For a long while there was no mobile data in the mountains & I was just driving blindly. Luckily, I was on the right path. Stopped at a resting spot in the mountains that serve nice nasi kerabu.
Sungei Petani is Kedah's largest town. It's very close to Penang, most of the cars on the road are "P" plate. It is a small town with quite a bit of buzz. Most shops close really early though.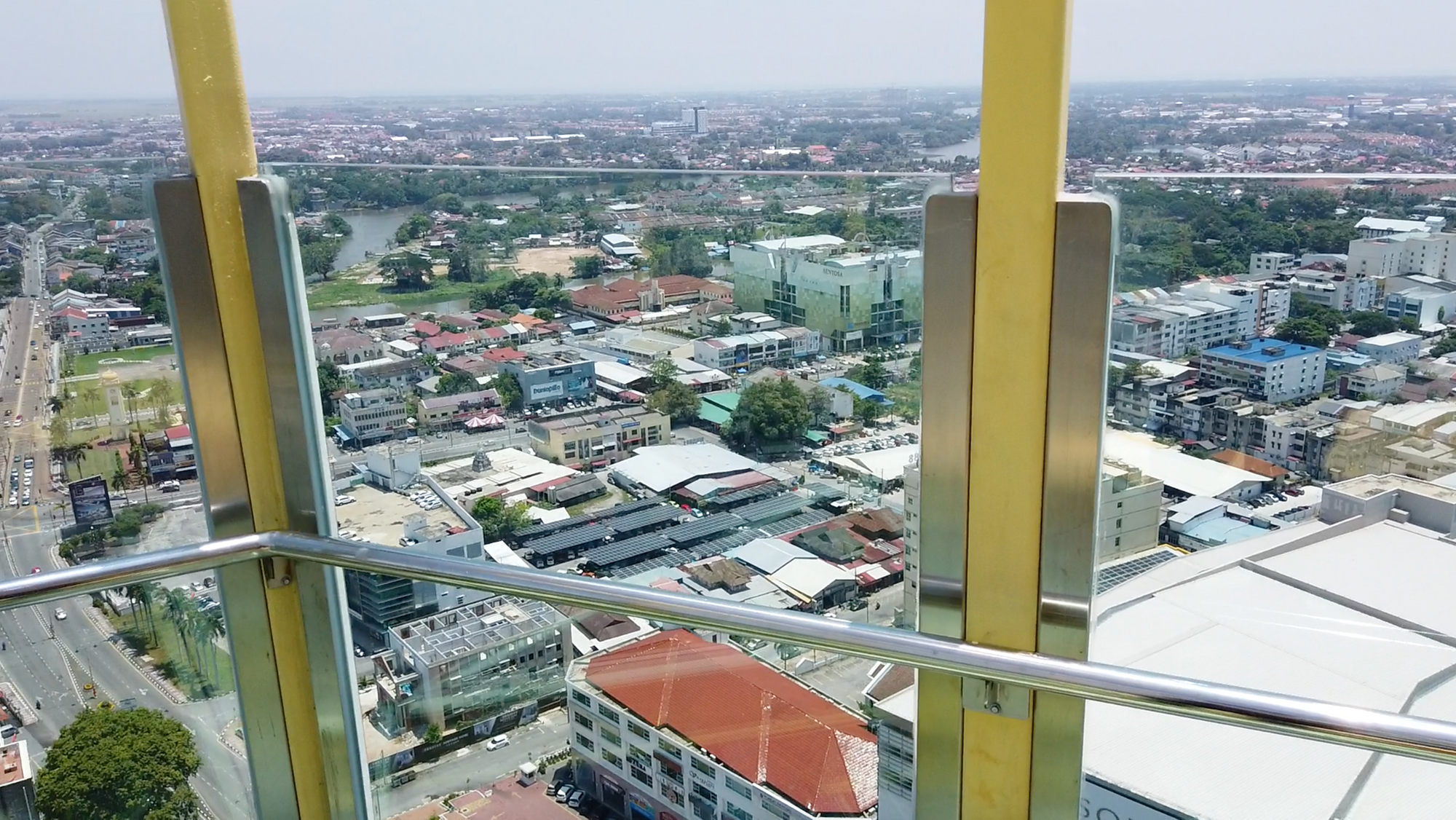 Made a pitstop to Alor Setar, the capital of Kedah the next day. Had the local favorite steamed fish (菜脯鱼) & viewed the whole town from the 165 meters tall Alor Setar Tower.
Day 6: Kuala Perlis, Perlis (155km; 2h20m)  
Quaint town with nothing much. The state closest to Thailand. The ruler of Perlis is a called a "Raja" instead of a "Sultan" and looks really friendly. Caught a really beautiful sunset in the evening.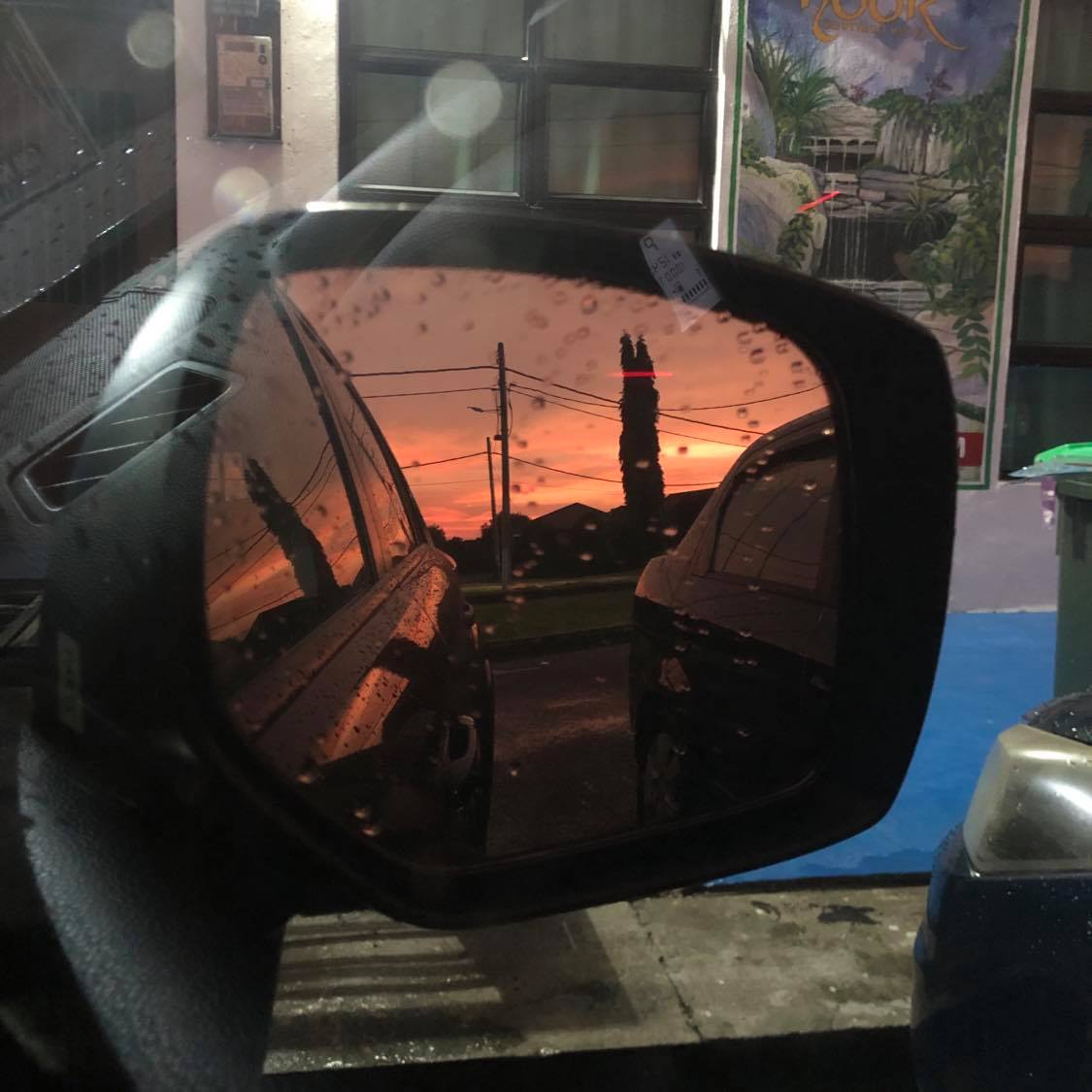 Day 7: Butterworth, Penang (146km; 2h10m)
Just nice my youngest brother was in Penang as well. Together with my mum & sis, we went to chill at Chinahouse & had dinner at Haidilao. Was a good catchup with family.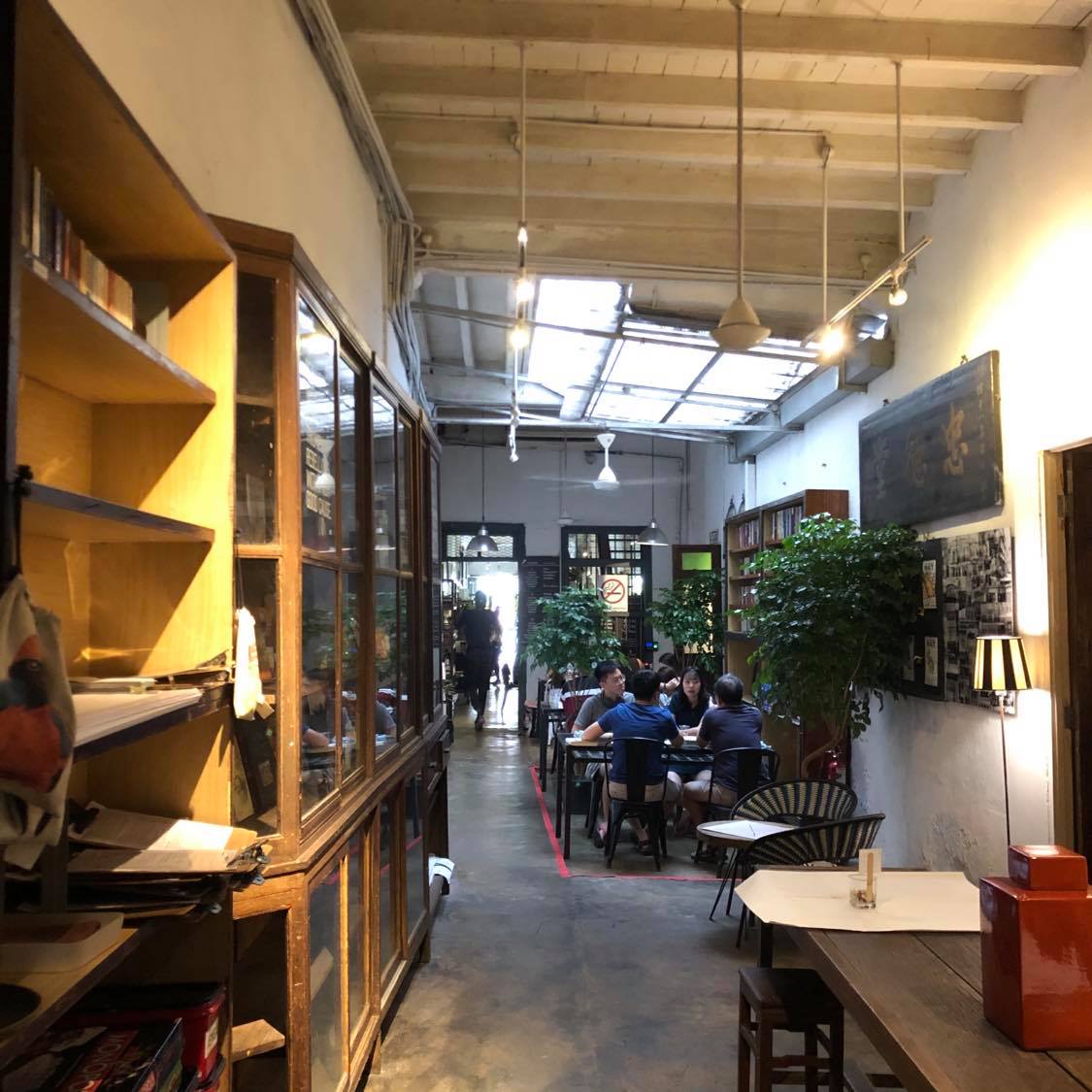 Day 8: Taiping, Perak (153km; 1h50m)
You can at once feel a sense of peacefulness when you arrive in Taiping. Walked around the old shophouses district & explored the nooks of the city.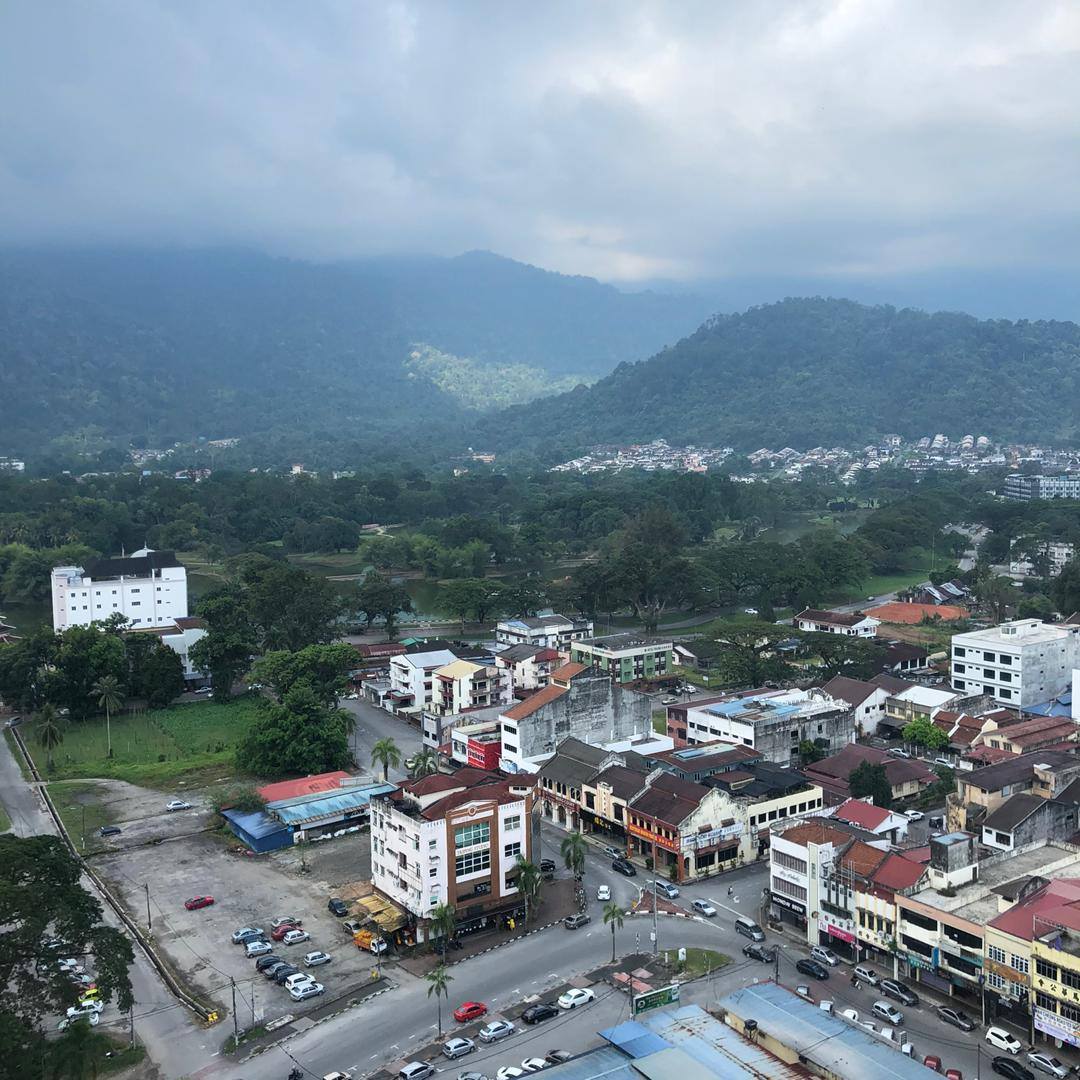 Day 9: Sekinchan, Selangor (213km; 2h30m)
Stretches and stretches of picturesque paddy fields, had fruits at Mango King & roamed the night market. Good place for a short day trip.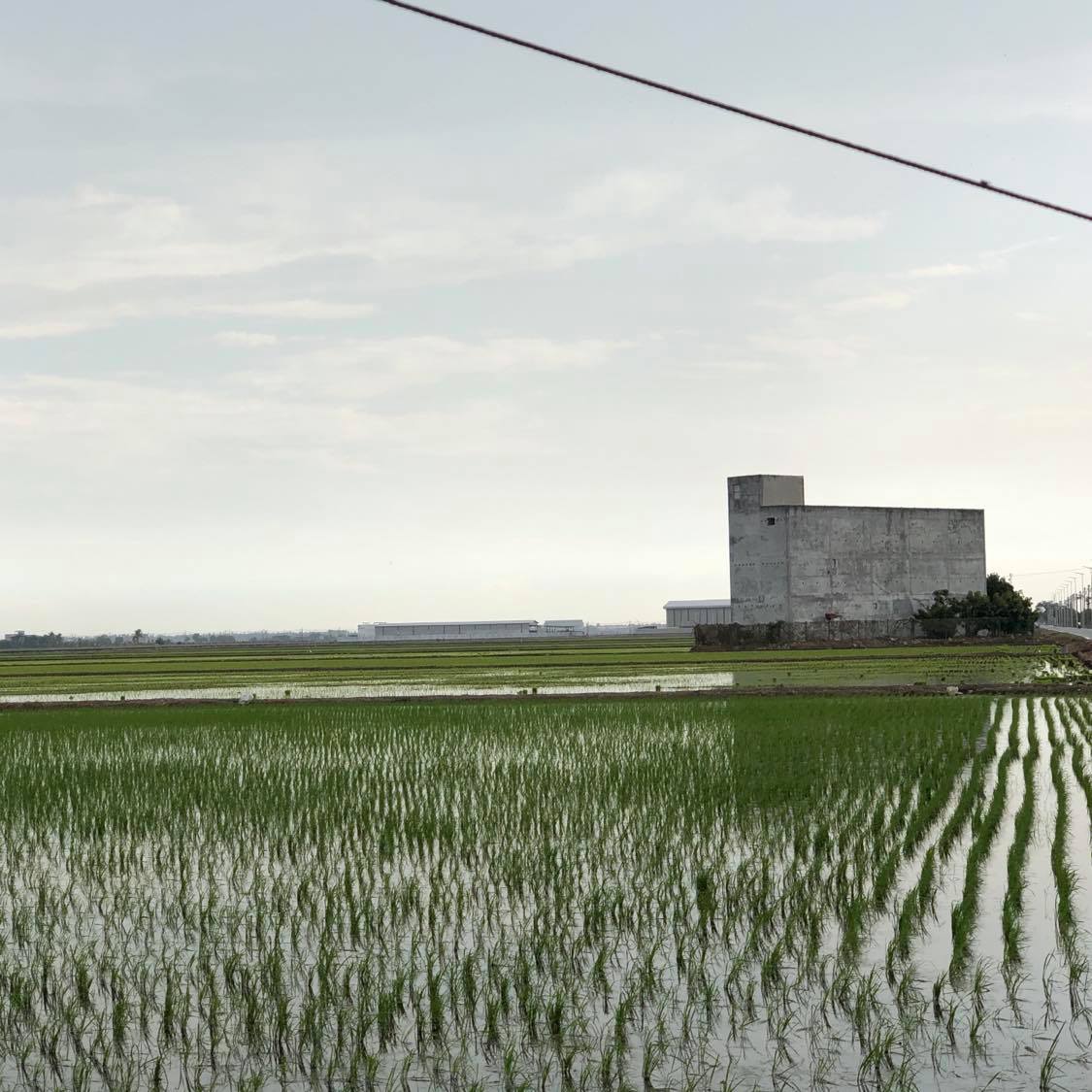 Day 10: Port Dickson, Negeri Sembilan (175km; 2h20m)
Stayed at Avillion. Got a free upgrade to a premium water chalet with a gorgeous seaview. Had a call with my product team to catch up on stuffs. Was good to get back to work after disconnecting for a week or so.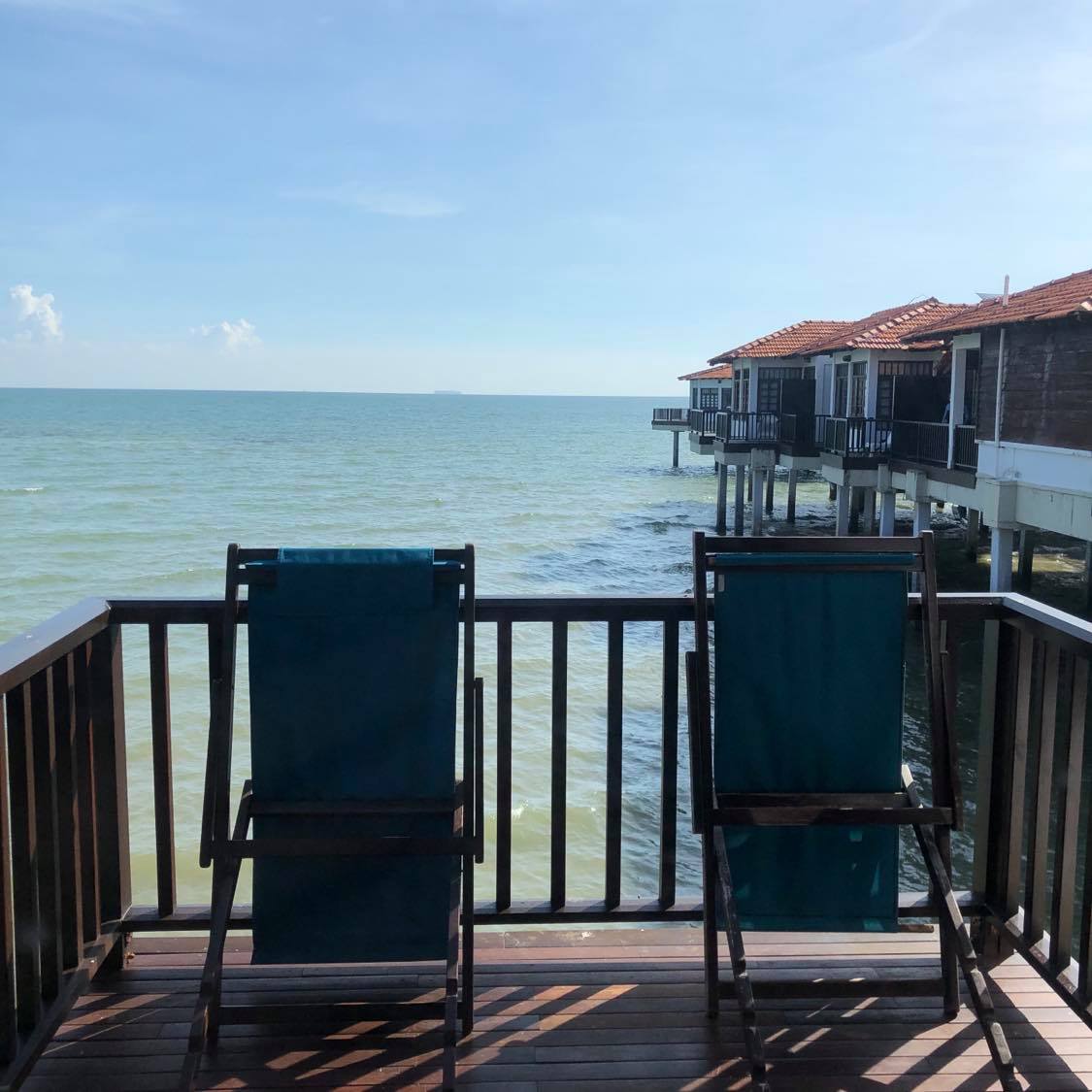 Day 11: Melaka, Melaka (100km; 1h)
The original hipster city. Had a nice stay at The Nest. Explored Jonker Street at night, can never get bored of it.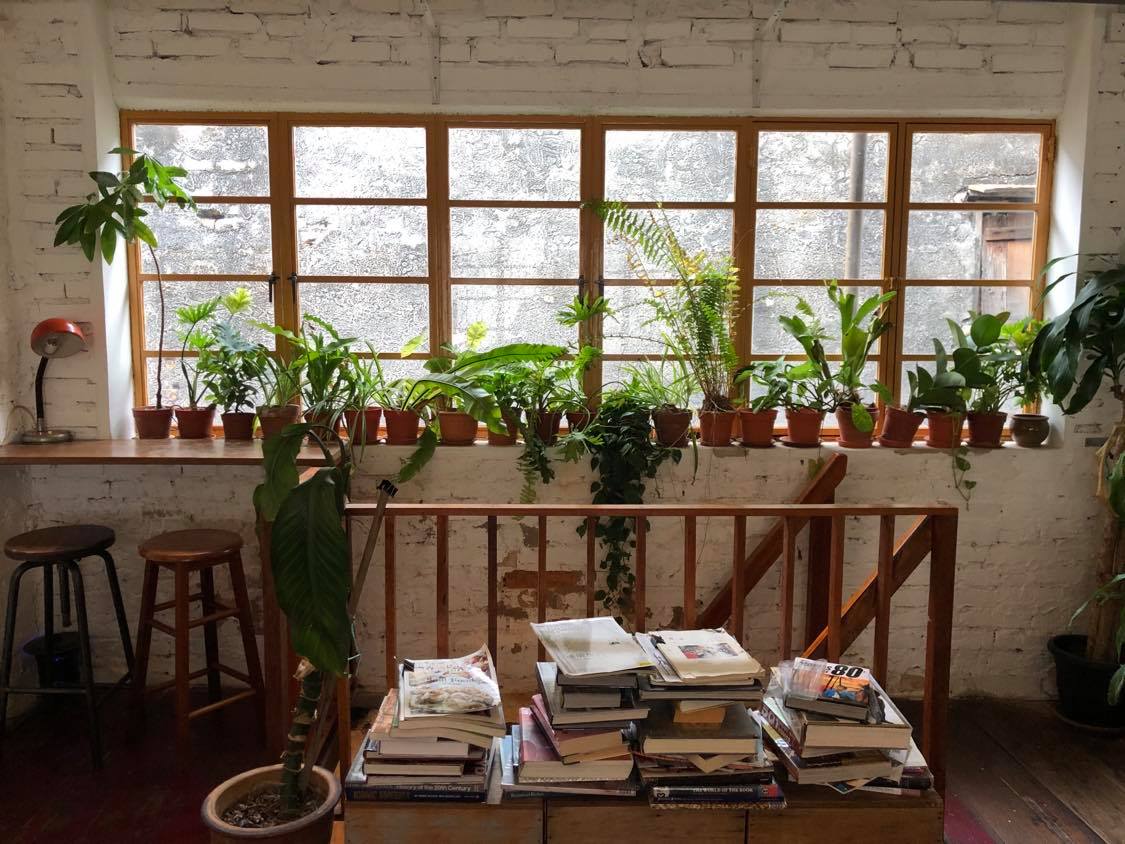 Day 12: Johor Bahru, Johor (223km; 2h30m)
Home!
Conclusion
While the journey is long, it is manageable if you break it down into smaller parts & tackle it day by day consistently, as with most things in life.
It was great exploring the different flavors of the country at one go. Happy independence day, Malaysia!